2017 BKK-LONEDIABLO – 2019 GT-Rex – 2020 BKK-Raptor-Z – 2020 TITANRIDER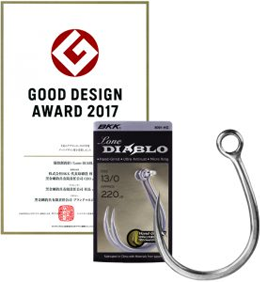 The BKK-LONEDIABLO features BKK signature technologies, resulting in one
of the most popular HD lure single hooks to equip big poppers and stickbaits
when chasing GT and other tropical species or smaller lures for other tough
fish. The peculiar, perfectly round design of the BKK-LONEDIABLO assures an even
distribution of the load during the fight. The Hand Ground point not only
provides an excellent penetration performance but helps in keeping the
hook sharp over time while the Ultra Anti-Rust coating provides extended
protection against corrosion.
First ever hook to be bestowed the Good Design Award in 2017.
The BKK GT-REX was developed aiming at tackling massive Giant Trevally and Tuna.
The Hand Ground hook point of the GT-REX coupled with BKK's signature Ultra-Antirust Coating ensure sustained sharpness and penetration performance.
All the details of GT-REX from the hook eye to the hook points have been engineered to create the best-performing treble hook for your salt water popping.
Bestowed the Good Design Award 2019.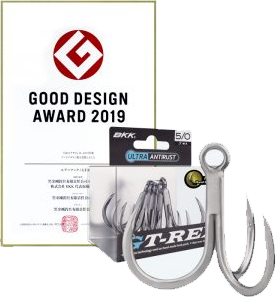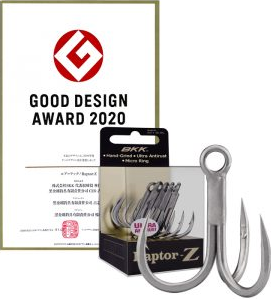 The BKK-Raptor-Z incorporates BKK's latest manufacturing technologies, being
engineered to hook strong and aggressive "monster" fish and stay hooked
to the very end.
Thanks to BKK's Hand ground technology and Ultra-Antirust coating, it is equipped with ultimate impaling power, being able to penetrate even the hardest bony jaws and superior corrosion resistance.
BKK's Slim Ring Technology further allows for an easier attachment of split rings.
It is one of the most used and popular treble hooks for a wide range of applications.
The BKK TITANRIDER is designed for weedless-style rigging of large soft plastic baits
such as big swimbaits and tubes. More than one year of field tests with different
species underlie the construction quality and the versatility of the hook.
The hook is equipped with a locking spring that securely holds baits in place and allows anglers to easily add or remove soft baits. An adjustable silicon stopper keeps soft plastics in position during casting whilst allowing for sliding down the hook when fish strike. Furthermore, a deep throat features a much longer hook point section that penetrates farther into the fish's mouth for a more secure hookset. BKK's unique Super Slide coating of the hook enhances penetration capability and reduces friction to the minimum level.
The TITANRIDER is the best hook for those anglers that do not want to compromise on
the hook up rate when weed-less fishing with soft plastic lures. Bestowed the
Good Design Award in 2020