Saltwater fishing is just another league if you've flicked lures in freshwater rivers and lakes for the big chunk of your angling experience. The beauty of fishing your home waters chasing down pike and trout is truly addicting, and its fascination can remain unchanged over the years, as you go back to the spots where you cast your first lures and caught your very first fish. This is how most freshwater anglers kicked off: walking down a riverbank or the lucky ones cruising around on a small boat, looking out for any sign of fish on the surface, seeking the best spot to try their luck, landing even fairly sized fish, working it with their hands, wrists and arms to lead it into the net. This, I know.
I guess it takes a lot to build a solid experience in saltwater game fishing. You can target such a wide variety of species and in so many different ways that most people wouldn't even imagine, including me. This is why when I used to think about great catches in the sea I had always thought that it just takes an experienced angler to pull it off, to manage to wear out fish of that size, minimising the chances to snap the line and God knows how many other variables involved in landing a proper sea monster.
However sometimes this thing that got me called fishing goes against the odds, making real what is not supposed to happen, what many would deem unfair, leading a dream fish just towards the end of the line of the most unexpected and incredulous random guy that stepped on the boat.
It was my first proper day out fishing in open sea, trying dealing with gear I was definitely not accustomed to, learning my way around massive jigs and impressive topwater poppers and stickbaits. Even the mere action of casting a lure out or dropping your jig and working it close to the bottom can put way more stress on your arms, shoulders and back than any freshwater fishing. Just another league. We kept on like this for a while and was lucky enough to experience what a strike on a 300g jig actually feels like, paving the way to a whole new fishing approach to me, one made of full-strength pulling, of fish just getting in control and taking line out. And I was pulling man, I was pulling harder than I had ever done before. Managed to get a couple of beautifully-colored yellowtail on the boat, not over 5kg each.
Fishing was a little slow but I had already what I came for, I just needed a real first-hand experience of saltwater fishing. Livebaiting was scheduled for the afternoon. We settled for some microjigging to get livebait and even that felt like fighting a decent size freshwater fish. I was amazed at the power that even small fish can unleash there. Once we had enough, we were off to the fishing spot Captain Ben thought would be a good testing ground for this new livebait hook.
Nap. Woke up after one hour and there is no land in sight, just blue all around. I cast a glance over at the screen and there is a huge plateau under the boat, some 90m off the sea bottom. And just heaps of fish on it. We rig our livebait and get ready to drop them in that huge school cruising just over 100m below.
Despite the apparent calm, if there is one thing I learned from my home waters and the good old river lurefishing is that bottomline is the only way you have to make a change is keep casting, keep fishing, keep focused. So I drop again. 80m down now. Still nothing moves, but the fish is there, I can see red marks all over the screen. Bite. I feel it distinctively, hesitant, light, but definitely a bite. I was instructed not to strike, to fight that instinct to just strike hard to set to hook, and to wait for the fish to just grab it and run. So I wait, with free spool on the reel and the line on my finger. I know he is going to be back for it. Bit…, wait no this is no bite, this is a slow, confident take, as I feel the line tension increase, I grab my rod hard and lock the spool as the line slides off my finger. And then all I remember is just being petrified, leaning back, my arms stretched forward as I helplessly stare at my drag going off. Muffled sounds come to my hears, must be the Captain: you have to stop it mate, stop it or you are losing this one, it's a decent size this one, just tighten that drag for God's sake!
I manage to slow him down, I tighten the drag and then it's just punching at each other for twenty minutes; as I found my rhythm I think I have it under control, sort of. Pull-lean back-crank-lean forward-pull-lean back-crank-lean forward again and again, I got this now, my back is killing me but I got this, I got this… as he brakes surface i relax and lay down, my arms shaking so badly.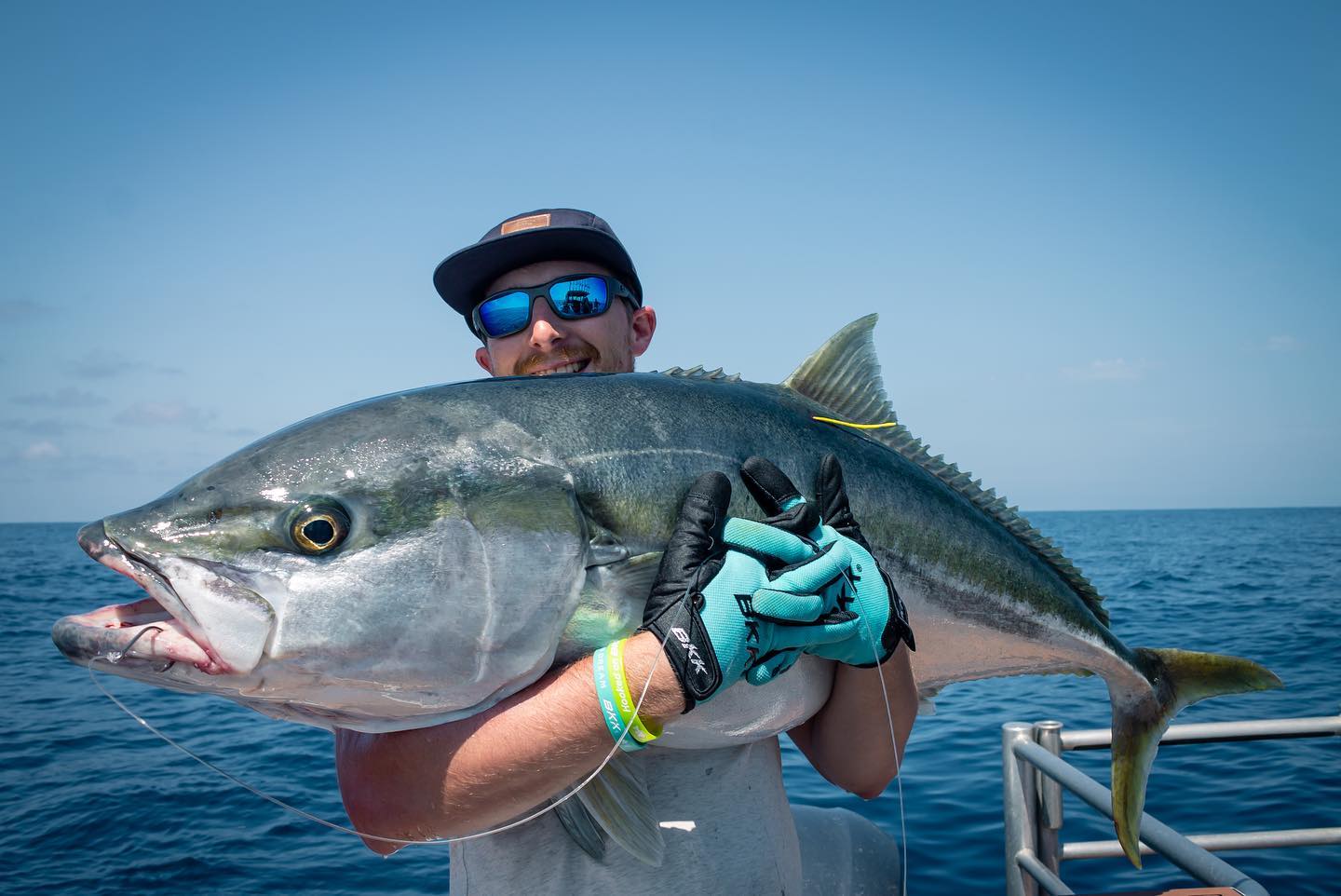 Captain Pokaia handles the rest, as I stare exhausted at this massive beauty. The rest is pure, genuine joy.